Oui ! Though I've been doing it for the past few months, it still sounds crazy when I say I'm pregnant in French (or in English!). It'll keep happening until July, when I'll have to switch to saying I'm a mother, which is like a whole other level of crazy, so I'm just focusing on the pregnancy part for now.
With each person or group that we've told, we've tried to find a new way to do it. A package of Grandmère coffee for my mother-in-law, a Skype date with my parents and a well-timed email, a surprise toast with the family at Christmas, funny ecards for Facebook . . .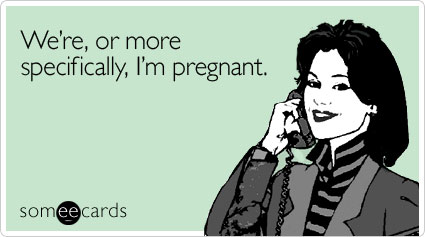 So for the blog, I thought I'd naturally take a more literary approach. I'm not sure how much I'll write about my pregnancy, since there are many other people that do a very good job of discussing the ins and outs of being a pregnant foreigner in France. And for the moment, there's really not much to write about anyway, besides boring stuff like "My pants don't fit anymore" and "Today I got another blood test and am really tired." I know I'll have more to say as things progress, but I'll try to avoid posting exclusively about the topic, since I know not everyone that reads my blog can relate to the subject, and I do still hope to maintain my other interests despite this big change. (That's possible, right moms?? I'll still have other interests, right??)
When announcing the news, I know all of the American expressions and how to change them around to meet my needs (a bun in the oven –> a French fry baking, bwahaha). I decided look up a few fun French expressions as well, since we still have some people left to tell, and it gets boring saying the same thing over and over.
"Avoir un polichinelle dans le tiroir"  – To have a marionnette in the drawer. A "polichinelle" is a type of marionnette with a big belly.
"En cloque" – Equivalent to knocked up, it's also how they translate the movie with that title. A "cloque" is a blister, which is just a charming image, non?
"Avoir un poulet au four" – To have a chicken in the oven. According to my colleagues, this is said more in Luxembourg. There's also the more French expression to have a brioche in the oven. It's interesting to know both languages seem to agree that making a baby involves baking . . .
"Tomber enceinte" – To fall pregnant. It seems strange to me to talk about "falling" pregnant, though you also say you fall sick or in love. Still, doesn't it make it sound like you tripped on the sidewalk and fell into a baby puddle and when you got up, you were suddenly pregnant?
"Elle est mère de son arrondissement" – I don't know if people actually say this, but I thought it was hilarious. It's a play on the words "maire" (mayor) and mère (mother), as well as between the more administrative meaning of "arrondissement" as a city district, and the action of rounding or "arrondir" something.
This is obviously not intended to be anything like a complete list of all the fabulous expressions that exist to say "I'm pregnant" in French, these are just the ones that stuck out to me. So if you know any other funny ones, let me know!